Foot notes: Shape & Size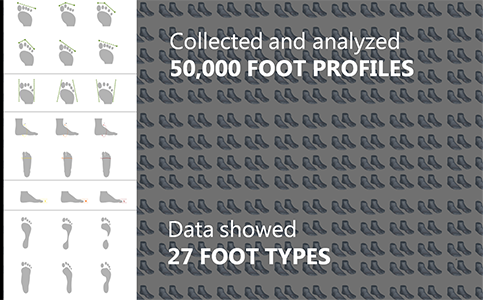 While the correlation between size and foot length is linear and studied in detail. We often forgot that the foot is a 3D object and cannot be defined in one measurement. Our conservative estimate is that for footwear fit to be accessed correctly, you will need at least 6 dimensions measured accurately.
In contrast- if you go to a good custom shoe manufacturer he will take close to 18 measurements of your foot in order to deliver the perfect fit.   When you walk into the store, you typically try out 3 or 4 different models to access your fit, you may even walk around the store. In essence, you are testing out other measurements which define the fitting of the shoe, such as arch length, width, toebox shape, etc.   
While buying a shoe online, this luxury is missing hence it becomes harder to buy footwear or you have  rely on services such as try and buy.       
Our suggestions while trying out shoes:
Try the shoe on both feet. 90% of the time – fitting will differ between your right and left leg.
Make sure you stand and walk a few steps in order to ensure that shoes are tested in a weight-bearing position.
Try out shoes in the evening as your feet are likely to be most spread out at that time of the day.
Most shoe fabrics don't expand much- so if it feels tight while trying out its going to remain tight.
While buying shoes for any athletic activity – make sure you have enough room in the front as your feet will expand.
In process of our research, we have scanned over 50,000 feet all over the world to build the best in the class fitting browser-based foot scanner.  Our research has shown 27 different types of shapes as the minimum baseline for all humans, but of course, we continue to grow our database and learn new things each day.
If you would like to help us out on this journey to simplify foot sizing, do size up with us. Each data point helps our systems become more robust and in turn helps you a better fitting shoe
Our virtual fitting app with quick requires you do three simple photos in order to get your complete 3D profile.
What happens after we have your profile ?
We generate a 3D model of your foot with all the required measurements. Next time you are browsing on one of our partner retailer sites- you can actually see how the shoe fits virtually.
Try our service here: https://shoesize.tech/demoapp/
 Leave us a comment to tell us about the foot scanner experience.